Our article has been accepted for publication!
Our third and final article on the so-called flute lyrebirds of northern NSW was accepted by the Australian bird journal Corella, 22 July 2019, and includes links to supplementary on-line audio files (see below).
Title:
A sonographic analysis of a flute-like dialect in territorial songs of the Superb Lyrebird Menura novaehollandiae in the New South Wales North Coast and New England Tableland Bioregions.
authors: Vicki Powys, Hollis Taylor, and Carol Probets.
Abstract:
Supplementary audio files
– overview of flute dialects across the study region, Figure 1.
Figure 1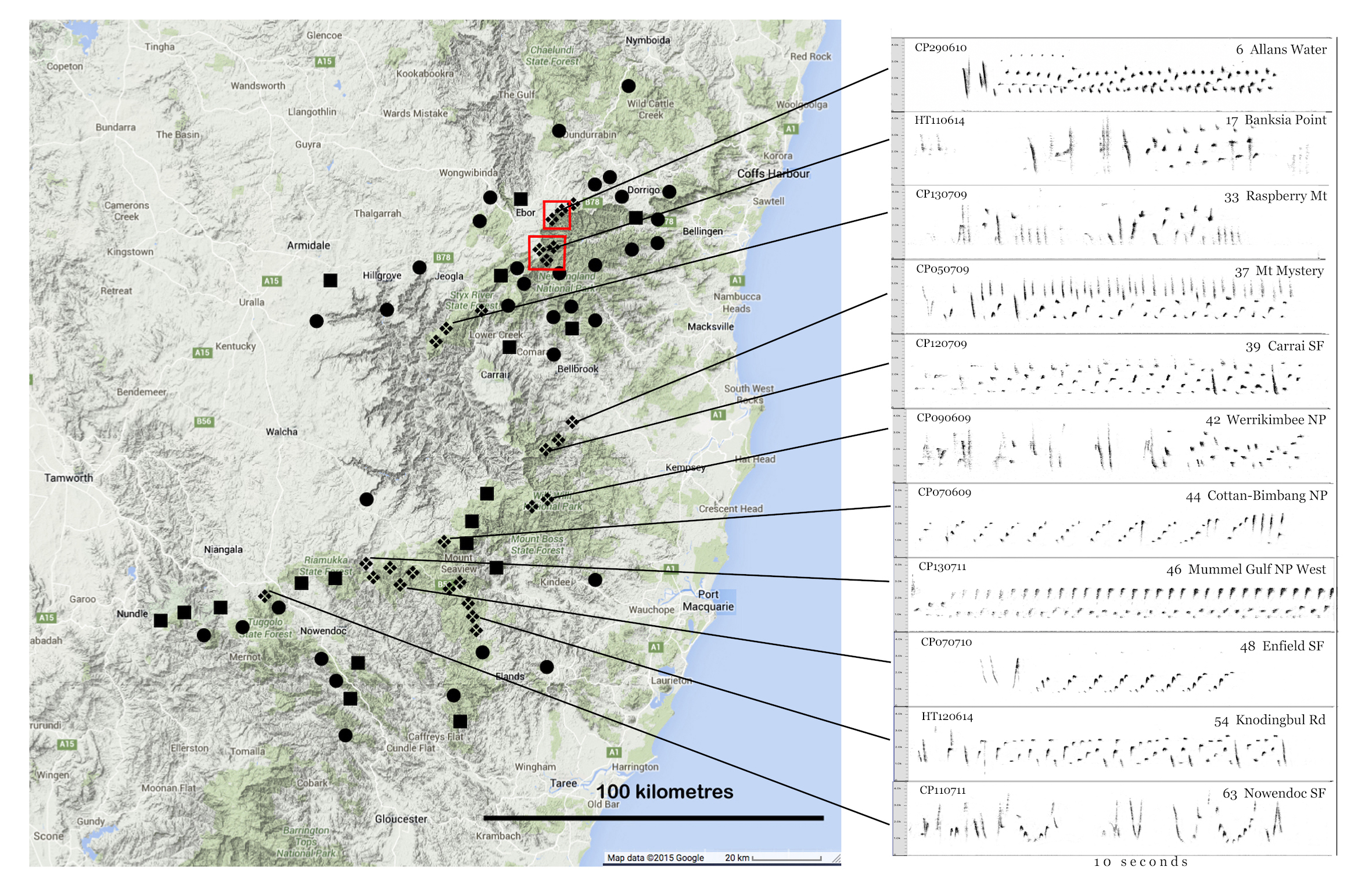 1a. Site 6, Allans Water, Carol Probets, 29 June 2010
1b. Site 17, Banksia Point, Hollis Taylor, 11 June 2014
1c. Site 33, Raspberry Mountain, Carol Probets, 13 July 2009
1d. Site 37, Mount Mystery, Carol Probets, 5 July 2010
1e. Site 39, Carrai State Forest, Carol Probets, 12 July 2009
1f. Site 42, Werrikimbe National Park, Plateau Beech camp, Carol Probets, 9 June 2009
1g. Site 44, Cottan-Bimbang National Park, Carol Probets, 7 June 2009
1h. Site 46, Mummel Gulf National Park west, Carol Probets, 13 July 2011
1i. Site 48, Enfield State Forest, Carol Probets, 7 July 2010
1j. Site 54, Knodingbul Road, Hollis Taylor, 12 June 2014
1k. Site 63, Nowendoc State Forest, Carol Probets, 11 July 2011
Next page has audio tracks for Historic & analyses, figures 2-7, here: